Product Demo (Front Maintenance Of C-Easy LED Modules):
Advantages:
1. Hot selling LED modules
2. Higher brightness for longer working hours
3. Easier to access in the front for maintenance
4. Reliable LED module gadgets
Specification:
| | |
| --- | --- |
| Pixel Pitch | 16mm |
| size | 320mm*320mm/12inch*12inch |
| Resolution | 20*20pixels |
| Brightness | 10,000nits |
| Refresh rate | 1920Hz |
| Working Voltage | DC5V |
| Power | 55W |
| LED type | DIP346 |
| Weight | 2.5KG/5.5LBS |
LED Modules in connection with other accessories
1. Power supply: Meanwell delta etc all available --AC100~240V 50/60HZ
2. IC: Macrolock brand, customized brand available
3. Power cable: 75cm ul power cable for power supply to modules
4. Latch for front access with allen key
5. Silicone gel to keep moisture away
6. 16pin/20pin input interface to connect control card
7. Fence to provent deformation of row needles
8. Signal cable: 20pin signal cable for receiving card/module to module
9. LEDs: P5 SMD 1921, P6.67 SMD2727, P8 SMD3535, P10/P16 DIP 346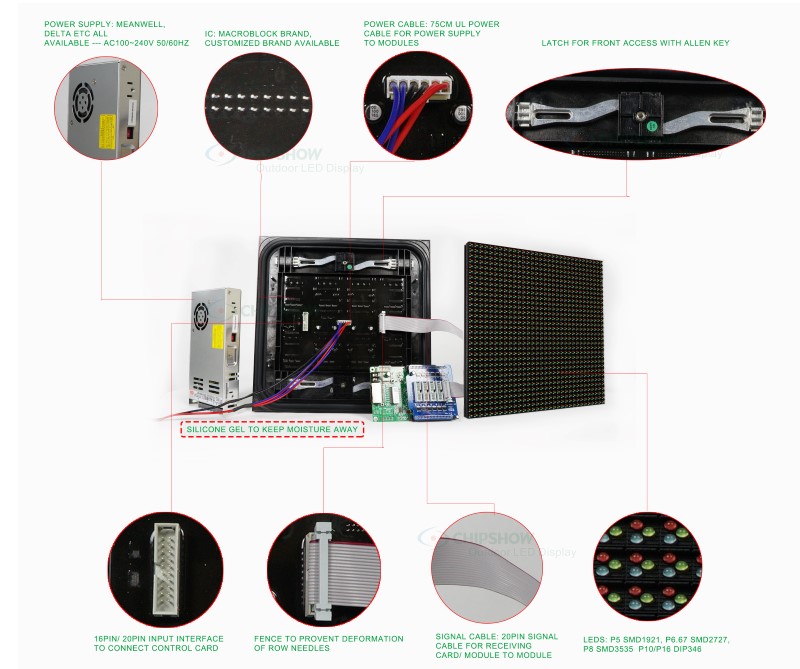 LED signs cabinet ready
Build your own LED signs with LED kits. Getting empty cabinets and make customized signs, such as 6ft x 3ft, 8ftx 4ft, 10ft x 5ft etc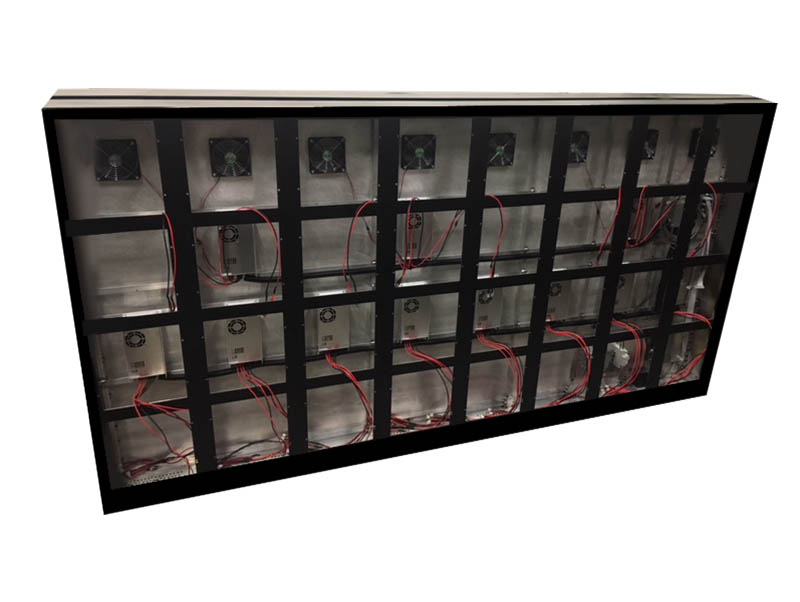 FAQ:
1. What accessories will you need when making a LED sign?
LED modules, HUB cards, fans, modules ribbon cables and power cables, receiving cards, power supplies and a controller.
2. Can those accessories be available together with the LED modules?
Yes, those accessories can be available from our warehouse in Glendale California 91201.
3. To start making a LED sign cabinet, what do we need to know?
size details of the LED modules, a CAD drawing will be sent to you from us.